WELCOME TO
MARSHAGHAI COLLEGE
Marshaghai College Marshaghai, Kendrapara has glorified its history since 1980, fulfilling the dreams of those illustrious sons of this soil. Now it is a leading college in Non-Govt. sector in Odisha. The idea and dream of establishing a Higher Educational Institution at Marshaghai first inculcated in the mind of. Late Sj. Rasananda Ratha, Late Sj. Prahallad Mallick, Late Sj. Dhruba Charan Swain, and Late Sj Raghunath Rath.
About us
The college is well communicated just one Km. south to Daitary-Paradeep N.H. 5(A) from Silipur and 7 Km from "Tulasikhetra" the abode of legendary God Lord Baladevjew in Kendrapara district. The place is believed to be named after one Marshal Sahib and famous as a pilgrim place for "Maa Gojabayani".
Mission
To inculcate supreme message "Satyameba Jayate" among the students.
To provide quality education in humanities, science, commerce and vocational courses.
To improve "all round development" (Educational, Physical, Social, Moral, Mental and Spiritual) in students.
To inculcate the idealistic, patriotic and imperative potentialities among the students.
To upgrade the institution of excellence and exemplary at the university level.
To rouse and spread the essence of the volcanic slogan "unity in diversity".
To provide quality improvement of higher education to all students of all section of society, with a view to bringing in them, social, moral, spiritual, physical academical and professional growth to serve the society and nation with love, justice & truth.`
Principal's Desk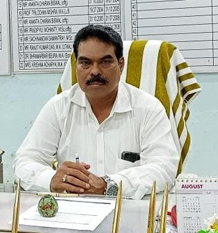 Marshaghai college has glorified 43 years history, fulfilling the dreams of those illustrious sons of the soil. Being the new head of this temple of learning, I along with my staff members and students will take oath to uplift the standard of this institution in all spheres. Discipline, dutifulness, brotherhood and human values should be reflected in our works for the larger interest of this institution. Our prime motto should be to achieve academic excellence. On the same time, we should concentrate our goal to be the distinct on curriculum implementation, transparency in administration, Examination and accounts.
Hope all will obey the code of conduct.
Wishing cooperation from all of you.
Prof. Pranaya Kumar Parija
Principal